Please sign up if you would like updates on upcoming retreats.
Here's what some participants from the 2017 retreat had to say:

And see below for an example of a sold-out retreat I held last year.
---
A 4-day retreat at The Song House in County Donegal, Ireland with Vaishnavi Monday 17th July – Friday 21st July
"I cannot begin to describe in words how blessed I feel from the weekend, it has completely changed my life. Thank you Thank you Thank you"
---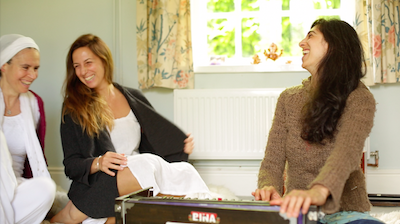 This retreat will incorporate devotional song and mantra (from the Indian and other traditions) and draw on a variety of vocal practices and the rich local tradition and wild landscape to support a deepening connection with our wild and sacred heartsong!
Or "our wild and sacred hearts omg!" as spellcheck suggests 😉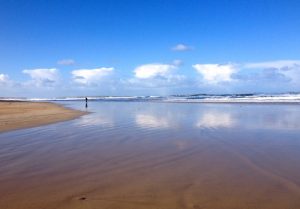 Numbers are capped at 16 participants to ensure this is an intimate group and that each person gets the input and support they need. The singing sessions will be morning and later afternoon / evening to leave the middle of the day free for visits to the beach, hikes, kayaking, communing with the wild nature around us, relaxing…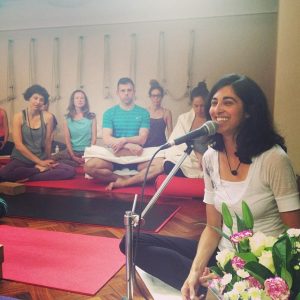 What unfolds will depend largely on what you as a group bring to it: your histories and your dreams. Both Candy and I enjoy being responsive to the needs of the moment so the practices we may draw on could include:
Improvisational exercises, playfulness and spontaneity
Chanting of simple call and answer bhajan and mantra
The work of Chloe Goodchild and The Naked Voice
Group singing and harmony with Candy Verney
Sound healing through mantra and group songbaths
Singing in local sites of natural beauty, historic interest or exceptional resonance!
Simple movements and stretches to begin each day and open our song vessels
Rare opportunity to experience heart-opening Irish Sian-Nos singing and local traditional music
I never know what will come through but I have held space enough times now to trust that – if I can get out of the way as much as possible – it will be magical and transformational!
"I meant to write to say thank you for a transformative weekend. I returned home feeling renewed in every way"
The Song House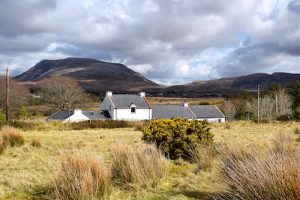 Teach na nAmhrán: The Song House lies on the world renowned Wild Atlantic Way. The nearby coast, with expansive wild and empty beaches bordered by sand dunes, stretch for miles and look out onto Tory Island. The seascapes are spectacular in stormy weather, yet gently sloping sandy beaches make these ideal swimming spots in warmer seasons. Muckish Mountain, Errigal Mountain and Glenveagh National Park are a short drive away.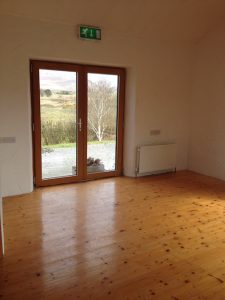 One mile from Falcarragh, with local shops and pubs, some serving excellent food, Donegal retains traditional values. The local pubs have regular music sessions where Irish music both past and present is performed by local and visiting musicians. Anyone is welcome to join in. As Falcarragh forms part of the Gaeltacht (the Irish-speaking areas) you will hear the language spoken around you.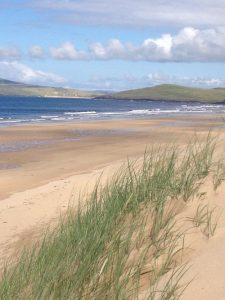 The area is rich in recreational activities. A Surf /Water sports school in nearby Dunfanaghy, excellent hill walking, biking and mountain climbing and several popular golf courses. Dunfanaghy (15 minutes by car) has restaurants, pubs, and an organic/wholefood shop. It also has an historic graveyard dedicated to the victims of the famines, and the Old Workhouse, now a museum.
More information on candyverney.co.uk/song-house/
"life changing. being love bombed, a healing experience, an opening of hearts. what can I say? words don't really describe the sense of 'altering' I went through over the week-end."
Accommodation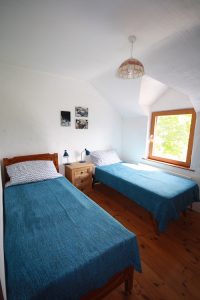 The rooms in the Song House all overlook Muckish mountain. There is one dorm sleeping 4 (also bookable as a family room, sleeping 5) and the rest of the rooms are Twins which you can share with one other or book as a Single.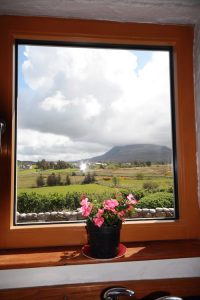 We will have a wholesome and tasty breakfast and dinner prepared for us using local and organic ingredients as far as possible. As you may wish to go to the beach, walk, explore, adventure, go kayaking etc. during the day, you can create your own from supplies we will have available for you.
If you wish to arrive earlier, there may be availability to extend your stay – please email.
Travel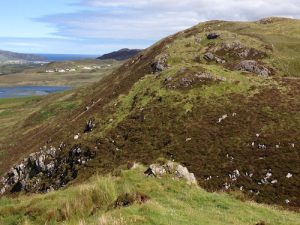 There are many ways to reach The Song House. Candy recommends Dublin as the simplest.
Information on car shares and car hire can all be found on a wonderful site getthere.ie. Some participants have already decided to rent a car and drive together. If you would like to be connected, please let me know.
Arrival is between 3pm-6pm on Monday 17th and Departure between 9-11am on Friday 21st. Please email to arrange arrival or departure outside of these times.
DUBLIN (Ryanair, Easyjet, Aer Lingus)
Drive (4 hours)
Coach (4 hours, 3 daily:

getthere.ie

)
Fly to Donegal (see below)
BELFAST (Easyjet, Aer Lingus)
Drive (2.5 hours)
Coach (2 ¾ hours, 1 daily:

http://www.gallagherscoaches.com

). The coach doesn't stop at the airport, but if you phone them, they'll arrange for a taxi to drop you from the airport to meet the coach on the main road.
Local Bus hourly from Belfast to Derry:

www.airporter.co.uk

(see below for connections)
DERRY (Ryanair)
Drive (1.5 hours)
Local bus to Letterkenny (30-45mins, 13 daily: www.buseireann.ie), then on to Falcarragh (1 hour, 9 daily:

getthere.ie

)
KNOCK (Ryanair)
Drive (3.25 hours)
Coach from the airport (5 hours, 3 daily, one change:

getthere.ie

) or from Knock town (3 hours 40 mins, 6 daily,

http://busfeda.ie/

)
DONEGAL (Aer Lingus: from Glasgow and Dublin only)
FERRIES
Liverpool – Belfast

Liverpool – Dublin

Pembroke Dock – Dublin

Holyhead – Dublin
Prices
Early Songbird (By 15th March 2017): Dorm £340 / Twin £380
Songbird (After 15th March 2017): Dorm £380 / Twin £420
If cost is a barrier for you, please email explaining your circumstance and a little about yourself and why you would like to attend the retreat.
For a single room, add £120 to the Twin sharing rate.
Is This Retreat For You?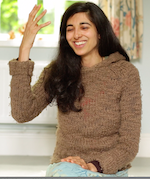 The only PREREQUISITES are a willingness to be playful and a longing to connect more deeply with your heart. You do not need to consider yourself "ABLE TO SING".
"My husband commented tonight that I've picked up new phrases and increased in confidence since the retreat. I feel like I've moved on from the rut I was in."
---
Does the idea of booking this retreat terrify the living daylights out of you?!
Do you yearn to sing and express yourself more confidently?
Do you feel your voice doesn't really communicate your authentic truth?
Do you feel hopelessly self-conscious singing or speaking in front of others?
Do you wish to reconnect with your playful inner child? The one who KNOWS HOW TO SING?
Would you love to ramble about the wild Irish coastline, singing your heart out with a group of totally nonjudgmental, safe playmates?
Have you, like me, fallen in love with Indian devotional song and wish to immerse more deeply in it for several days at a time?
If you answer "yes" to any of these questions, do get in touch. I may be able to allay any concerns or fears that this is not for you.
About Vaishnavi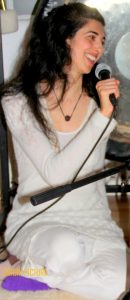 "It is always a privilege and joy to work with someone who is already courageous, creative and committed to waking up." Chloe Goodchild
Vaishnavi didn't believe she could sing til she was introduced to mantra in her late twenties. Through Kundalini Yoga she tentatively began sounding and through being introduced to Indian devotional song, she finally found her way home (AUM).
Vaishnavi spent several years living in a large Indian ashram, immersing herself in daily chanting of Sanskrit verses. During this time she also led bhajan (Indian devotional singing) for thousands for people. Now back in the UK, she remains anchored in her dedication to these sacred practices while sharing them in a playful and accessible way. This is the first retreat she has offered since the enormously well-received Breath by Breath retreats she held with Preet Kaur in 2013-14.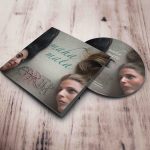 She is a trained Kundalini Yoga teacher and has studied with Rajeswar Bhattacharya (the foremost singer of Tagore raga) and Chloe Goodchild and the Naked Voice. The greatest teaching, however, has been a flowering of the heart and a transmission of bhakti (devotion) through her time with Amma (Mata Amritanandamayi). She is one half of the duo EARTH whose debut CD Maha Maha was released in December 2016.
About Candy
Candy Verney is a teacher and mentor of mine and we are incredibly blessed to have her vibrant energy and presence with us on this adventure! She will be sharing some precious songs from diverse traditions in some wild and inspiring spaces – on the beach, in a sacred site and in a resonant church space (weather permitting).
Her passion is to inspire and create, through singing, a sense of harmony which gives an experience beyond the ordinary. Group singing has a power unlike any other to bind people together. More traditional communities have known this, and we are rediscovering this today. Singing has the power to build bridges between cultures and communities with differing world views. This is a common theme in all the work Candy does.
Candy is a skilled facilitator excelling in breaking down barriers and creating unity through singing. Over time Candy has gained extensive experience in developing harmonious teams using the voice, working with a wide spectrum of individuals including businesses, universities, hospitals (staff and patients) social services and education. She is in regular demand throughout the UK and mainland Europe. She is a member of the Natural Voice Practitioners Network.
Some themes we may explore…
Playfulness – will be a foundation of the four days as we gently explore reconnecting with our innate inner child in a safely held space.
Connection – with our own hearts, those around us, the natural world. Singing and sounding deepens our intimacy with life and existence in a magical and effortless way!
Sound Waves – witnessing the rise and fall of sound each day as we begin from silence, rise into fully expressive sound and gently sound ourselves back into silence.
Listening – to ourselves, others and the world around us – plays a key part in sounding. We will play with deepening our listening through call-and-answer chants, group sounding, harmonising, Triads (from The Naked Voice) – and also using a technique called Listening Partnerships.
Silence – is the space from which all sound emerges and dissolves back into. We will spend some time time in silence to connect more deeply with ourselves and the natural world.
Movement – Sharing simple stretches to open the body for the voice to flow, sounding in simple and easy yoga asanas, walks on the beach and in the countryside around – for starters.
Healing – Sound and voice are innately healing – and we will also close each day with a group sound healing experience that will deeply relax and leave you ready to slip into sleep.